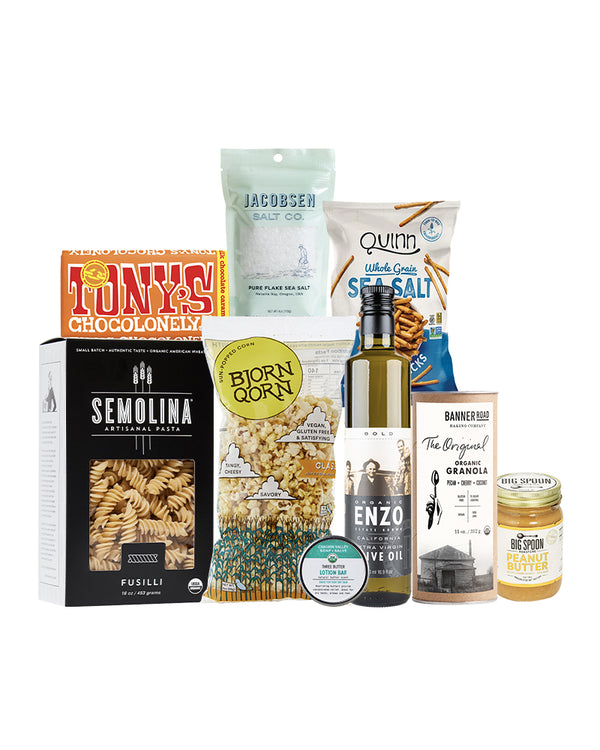 Bundle
We get it—you're new here and don't know where to start (we've been there). Curated with your indecisiveness in mind, we present you some tried and true goods you'll tell all your friends about.
Sustainable goodness
This starter bundle does all the work for you, bringing together the most loved products from brands doing good and striving for better.
What's included
The Original Pecan + Cherry + Coconut Granola
Tin Lotion Bar
Pure Flake Finishing Salt
Peanut Butter with Wildflower Honey & Sea Salt
Milk Caramel Sea Salt Chocolate
Bold Organic California Extra Virgin Olive Oil
Salted Sun-Popped Popcorn
Fusilli Semolina Pasta
Maple Almond Butter Filled Pretzel Nuggets
Why we love it
You love the planet and everyone in it—so do we. And it can be tough to constantly research which brands are keeping their sustainability promise and giving back to communities. This collection is a taste of what Hive is all about: helping you buy what you believe in. It's the welcome you deserve.
Allergens
See the individual product pages for allergen and ingredient details.
Shipping
Hive orders generally take up to 48 business hours to process and ship via ground shipping.
How it does good
Little Secrets was founded in 2014, when founder Chris Mears realized that many of his favorite, nostalgic chocolates from childhood were packed with chemicals and high-fructose corn syrup. He set out to reinvent chocolate by using high quality, fair trade ingredients, while getting rid of all the bad stuff. The end result? Chocolate classics just like you remember, only cleaner and more sophisticated.
supporting key causes

This starter bundle walks the talk, supporting sustainable companies that give back by supporting scholarships, community organizations, and small businesses.

recyclable packaging

These companies work to eliminate plastic in both their production and packaging.

responsible sourcing

These companies take pride in their environmental stewardship, and many of these companies source locally. When they're sourcing from around the world, they purchase their ingredients fairly and strive to work directly with the farmers to make sure that the money ends up in the right place.

low carbon footprint

Reducing waste is a top priority of these companies and they are continually refining their processes to lower their carbon footprint, by either investing in new equipment to decrease their natural gas usage or upgrading their packaging to use less energy.
About the Brands
Banner Road is where Chef Anne grew up on her family farm and observed the magic of farm to table with every meal.
Founded by a mother with a cause, Quinn Snacks was started in 2010 by Kristy—right in her Massachusetts kitchen.
Chagrin Valley Soap & Salve is a small family-owned and operated company that began out of a concern about the synthetic ingredients in skincare products and their adverse effects.
Jacobsen is the first company harvesting sea salt in the pacific NorthWest since Lewis & Clark built salt works in 1805.
Co-founder Mark Overbay learned to love simple, freshly roasted nut butters while serving in the Peace Corps in Zimbabwe.
Tony's is committed to making the universe of chocolate production fair and equitable for all involved, particularly the farmers and the people working on cocoa farms in West Africa.
The story of the Enzo Olive Company begins in 1914 with the Ricchiuti family and Vincenzo Ricchiuti's voyage from Italy to California, bringing along his passion for vegetable growing.
Leah Ferrazzani launched Semolina Artisanal Pasta in 2014 out of her home kitchen, converting her laundry room into a makeshift pasta dryer using some consumer electronics and a lot of moxie.